CAREER IN SALES
Ranger as an employer
With us, everything is a little different. Somehow special, because with us everyone has the same opportunities.
No matter what you have learned or where you come from, you are welcome in our team!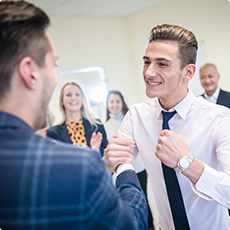 Discover your talent with us
Because we believe in equal opportunities for everyone, no matter what you have done before. We're not interested in resumes - we're interested in your personality!
It is important to us that your start with us is worthwhile - and in addition to a relaxed working atmosphere in a colorful and young team, we also offer you unique opportunities for advancement, above-average earning potential and flexible working hours.
As part of Ranger, you will work at one of our 115 locations nationwide.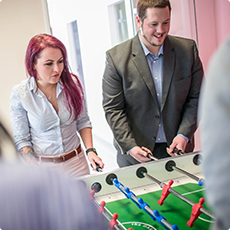 What we offer you
Unique career opportunities - We'll take you to the top together! From your entry to the management of your own team.

Together with us and our comprehensive training and development program at our Ranger Academy, you can develop your personal potential.

Attractive pay and motivating bonuses are standard with us. Through your sales successes, you determine your own salary.

We offer you more than just a job - that's why, in addition to the work, cohesion and fun in a great working atmosphere are in the foreground.
OUR CUSTOMERS
Who we could already inspire

Pre-marketing FTTH
With a direct customer approach and fully electronic processes, we ensure a worthwhile FTTH rollout.

Customer acquisition in B2C
As one of E.ON's largest marketing partners, we have been successfully implementing the acquisition strategy for residential customers since 2012.

Acquisition of B2B customers
For Vodafone, we are proving that outsourcing SME sales offers a wide range of benefits, especially during the growth phase.

New customer acquisition via app
For the acquisition of new customers for electricity and gas, we rely on a fully digital and scalable process.

Donor acquisition
Direct approach at the door with the aim of attracting donors to Unicef.
Ranger in numbers
What we have achieved so far
300
Locations where we operate regionally and internationally
Ströer Group
Part of Germany's leading outdoor and digital advertiser
1.000.000
Successfully sold products for private and business customers per year
Since 1992
successful in sales